As we all know, but maybe tend to forget: Care home residents are people like everyone else, they just have some physical or mental limitations so that need help and care in their daily life.
They still appreciate to be active and social with others, as long as they are offered activities they can manage.
Most care home residents have earlier in their lives been active in some kind of sport or club activity: golf, bowling, tennis, volleyball, football… activities they can no longer perform due to their reduced bodily function.
Fortunately, there are many alternative sports and activities that the residents will be able to manage: Boccia, Petanque, skittle games, sitting volleyball, indoor croquet, sitting basketball, bean bag games etc.
Positive side effects, apart from the fun and laughter these activities create, are improved balance, coordination and muscle strength – and improved sleep at night.
Inactivity is bad for the health, whereas all kinds of movement will be beneficial for the health and the thriving of the care home residents.
It is our experience, that people with dementia benefits tremendously from simple sport activities in small groups: it helps them focus and relax.
We have made it a priority to manufacture a range of sports and activities well suited for care homes and activity centers.
To describe the properties of this equipment in short:
The equipment should be rather light, nice to hold and manageable from a seated position.
The equipment must be useable indoors, or for indoor & outdoors play.
The equipment should hold as many sensory qualities as possible: visual, tactile and audible.

Below the 3 products you find our recommended activities and games.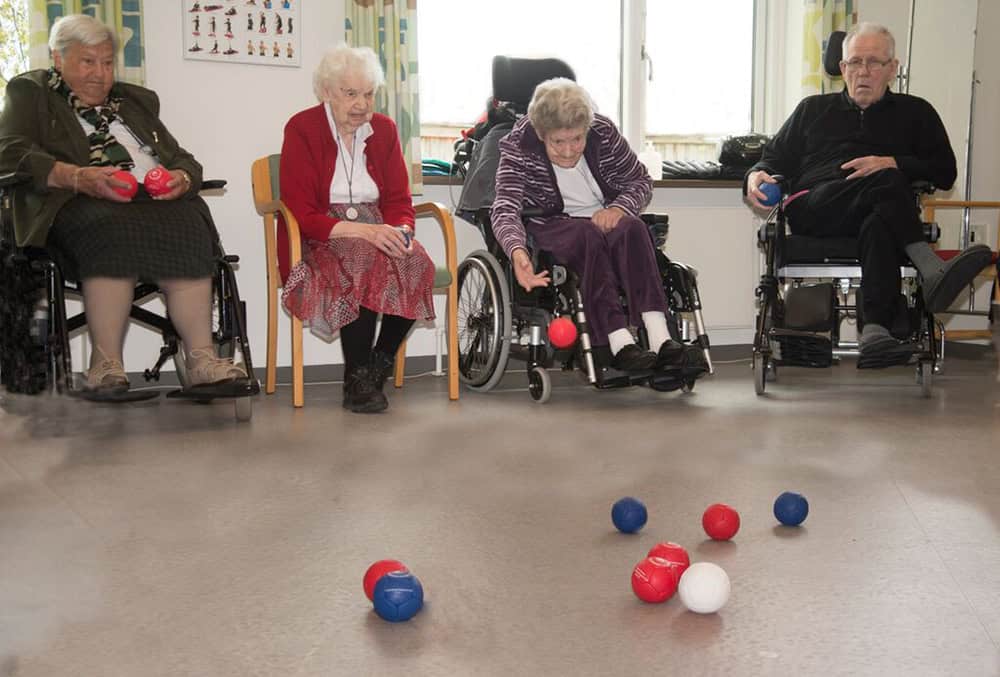 For inspiration watch this video about Trimmy Ball Introduction: