Para Sports & Paralympics
Parasport is the general term for organized sports that are adapted to people with a functional impairment.
As such, the term covers a wide area of sportive activities, from simple adapted sports & games to elite sport performances at the Paralympic Games, held every 4 years, a couple of weeks after the Olympic Games.
Para is a greek word meaning "beside" or "alongside", signaling that Parasport is parallel and equal to able bodied sports.
How did it all begin?
The two world wars in the 19th. century created an enormous need for rehabilitation of the thousands of wounded and disabled soldiers.
Already back in the 1920ties, disability sports were starting up in Germany, and the movement gained further momentum in the late 1940ties after the end of WWII.
In England, the German neurologist Sir Ludwig Gutmann created the Stoke Mandeville Games for the spinal cord injured, and thus build a vision for the Parasport Movement. 
Guttmann was the first to predict the Paralympic Games when he uttered these prophetic words: Maybe there will someday be an Olympics for people with disabilities.
During the last half of the 19th. century, Parasports was evolving and growing through sports organizations representing a specific disability: the spinal cord injured, the amputees, the visually impaired, people with Cerebral palsy etc. etc.
In 1989 Parasports was taken to the next level with the creation of the International Paralympic Committee, IPC. The worldwide Parasport movement had finally succeeded in creating one overall governing body for disability sports!
PARASPORT TODAY
All over the world Parasport is growing and evolving, both on grassroot and competition level; there are numerous sport events, nationally, regionally, and internationally. New sports are being developed and with time some of these sports will probably become Paralympic Sports.
However, the most important is not the amazing elite performances at the Paralympics and other international events, even though these are truly great.
As we see it, the most important spinoff from the Paralympic movement is that:
Parasport is a stepstone for integration into society, and a direct way for people with disabilities to gain confidence, empowerment, and recognition.
Children with disabilities benefit highly from Parasports, as it gives them something to do in the gym and allow them to have fun with sports, just like their peers.
Inclusive sports improve the quality of life for people with disabilities, as well as for their able-bodied surroundings.
Equipment for Parasport & Paralympics
Often there is no difference between the equipment used in Parasport and in regular sports; however, there are also special sports products for Parasport.
Sports for the blind and partially sighted will often have tactile or auditory properties; footballs for wheelchair football are extra large, and for special sports such as Boccia and Showdown, unique sports products have been developed.
For inspiration, watch this video about Boccia a Paralympic sport – introducing boccia player Marco Dispaltro, a Paralympic Medallist:
Supplier of Blind footballs to the Rio Paralympic Games 2016, Tokyo2020 Paralympics and many other international competitions:
Below: The Dansih Goalball team for men – ready for a match – they are all wearing Justa Blind Sports Masks.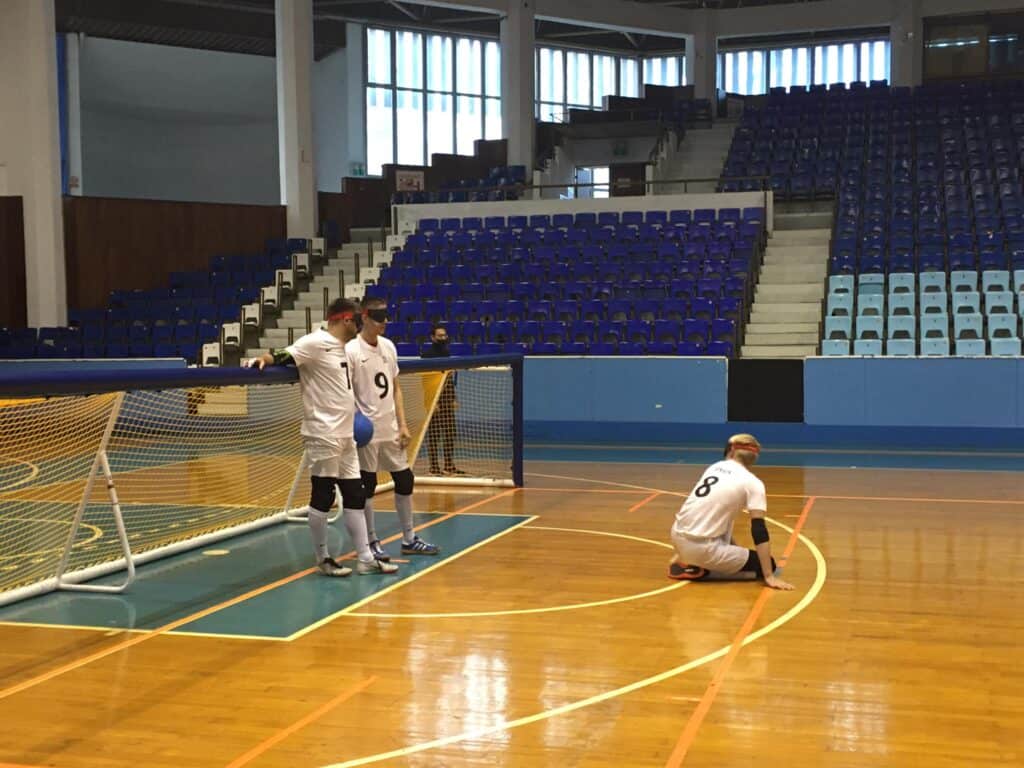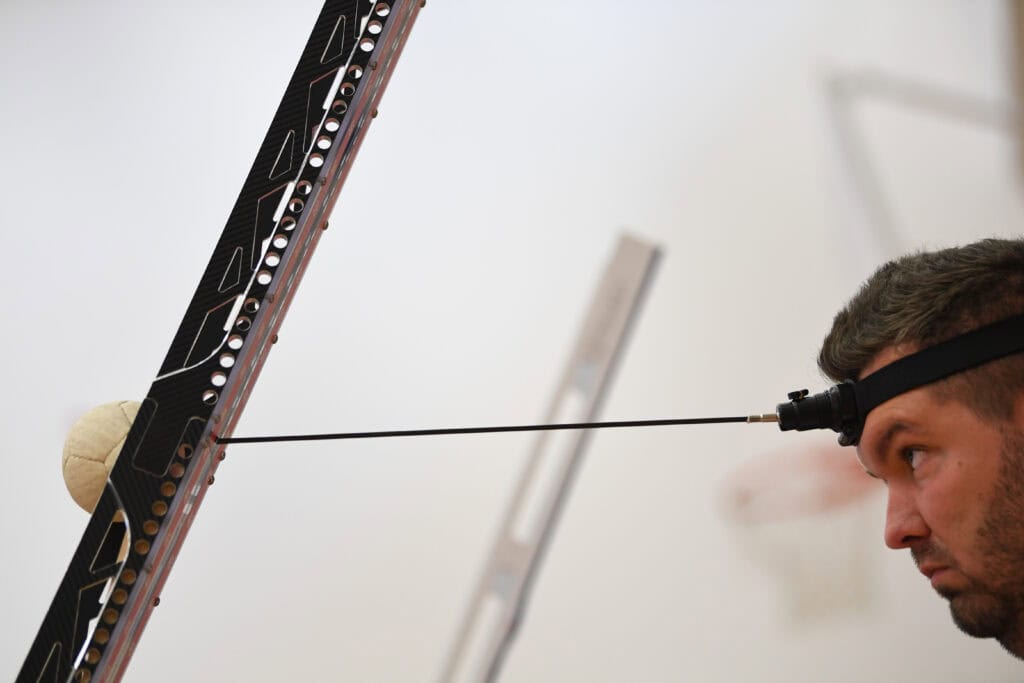 Boccia player using a ramp and a headpointer to play.